cSAR3D - SAR System with Novel Vector Array Technology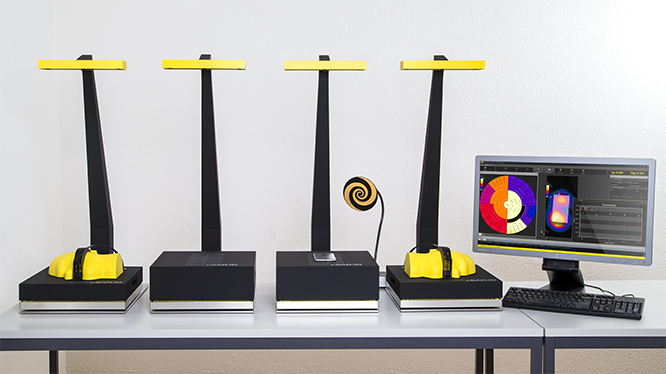 Why cSAR3D and DASY83D give you the edge in SAR testing
cSAR3D is the fastest Specific Absorption Rate (SAR) measurement system on the market, and can be used in any setting. Within a fraction of a second, the full SAR distribution and peak spatial-average SAR are measured and displayed. This unparalleled speed offers significant time savings and enables features such as:
time-average SAR measurement in real time, for devices with dynamic power control or antenna switched diversity,
accurate proximity sensor evaluation, including trigger distance and coverage area.
cSAR3D is considered the most advanced and most accurate vector array SAR measurement system on the market. It is fully compatible with IEC 62209-3.
cSAR3D phantoms (Flat, Left Head, Right Head) are compact and can be used in a variety of settings (including on production lines or on an engineering workbench) without a dedicated lab environment.
DASY83D (DASY8 Module c3D) adds the DASY8 robot to cSAR3D for fully automated cSAR3D testing. The DASY8 robot picks up and places the wireless device on the cSAR3D phantoms. This combines speed, automation, and versatility into one powerful system. The system is ideal for high-volume testing (such as production-line testing and market surveillance) or fully automated testing (such as compliance or pre-compliance testing of all DUT test configurations).
DASY83D is compatible with all other DASY8 modules and therefore facilitates fast compliance testing to IEC/IEEE 62209-1528, where cSAR3D is used as a fast SAR system for pre-screening of all tests, and DASY8 Module SAR is used for high-precision SAR measurement of the highest SAR test conditions.
Applications, Features, and Benefits
APPLICATIONS

Compliance Evaluation

improve time-to-market by using cSAR3D in accordance with IEC 62209-3
feel secure knowing that the performance of cSAR3D has been validated by independent test laboratories to be within IEC 62209-3 acceptance criteria
gain confidence in your results with measurement uncertainty calculated for each measurement: < 30% for all measurements on cSAR3D Flat phantoms, and the vast majority of measurements on cSAR3D Head phantoms (verified)
use advanced features such as time-average SAR and simultaneous transmission SAR combining in accordance with standards and regulatory guidelines
increase the measurement resolution and accuracy using our X10 spatial combining algorithm on cSAR3D Flat

Screening

use cSAR3D as a fast SAR system based on IEC/IEEE 62209-1528
combine cSAR3D results with the gold standard DASY8/6 for significant time and cost savings
fast, fully-automated testing DASY83D save time and costs for compliance evaluation

Prototype Testing

use cSAR3D at the workbench to check design modifications on radiofrequency (RF) performance of devices
quickly analyze SAR measurement statistics

Quality Assurance

run thousands of SAR measurements effortlessly with built-in automation features
integrate cSAR3D into your production-line quality-assurance (QA) process
use our remote client to control cSAR3D hardware from third-party software
FEATURES

Advanced Array Technology

high-resolution array with over 1000 sensors
array is conformal to the phantom surface at a distance of 3 mm
all three field components measured directly
robust and accurate 3D field reconstruction for display of SAR distribution in the volume of the phantom

Testing Automation

DASY83D is a robot-based extension to cSAR3D that automatically positions the wireless device on any phantom and integrates with DASY. Thousands of measurements can be performed with one click.
write your own testing scripts with our internal Python scripting interface
control cSAR3D hardware remotely with any third-party software, allowing scalability to multi-site labs and integration with other hardware

Base-Station Simulator integration

Test Reporting

overhead camera module (CAMO) takes photos of the wireless device during testing. The software overlays the camera image on the SAR distribution for documentation of the peak SAR location
automatic generation of the SAR test results with a single mouse click
tabular output of the SAR data in Excel, Word, HTML, or PDF formats

Calibration

650 MHz - 10 GHz calibrated frequency range (validation down to 300 MHz)
delivered fully calibrated with all communication signals for wireless devices listed on our support page
calibrations for other communication signals can be added without having to ship the hardware to us
calibration is performed in our ISO 17025 accredited laboratory

Validation

full IEC 62209-3 validation is performed on each newly purchased cSAR3D unit
full IEC 62209-3 validation is available on request during cSAR3D re-calibration
report of validation results is provided for each validated cSAR3D
set of validation antennas is available for independent confirmation of validation
BENEFITS

Fast

improve time-to-market by using cSAR3D in accordance with IEC 62209-3
perform hundreds of measurements in minutes (3 measurements per second)
reduce the time and cost of SAR measurement for prototype testing by over 90%
for compliance testing based on IEC/IEEE 62209-1528, time and cost savings of at least 40% can be achieved when cSAR3D is integrated with the industry standard DASY8/6

Powerful and Versatile

easily create measurement projects of over 1000 tests, including all modulations (2G, 3G, 4G, 5G), phantoms, positions, and accessories
connect the wireless device with base-station simulators for automated and fast call setup and handover
write your own scripts to automate measurements with cSAR3D's internal Python scripting interface
control cSAR3D externally from other applications

Modular

use individual phantoms independently
place the Flat (24 kg) and Head (17 kg) units on a desk or lab bench, no need for a specialized laboratory environment
extend the system according to your testing needs
send units for calibration at different times to be flexible with your testing demands

Proven Accuracy

validated by independent laboratories to be within IEC 62209-3 acceptance criteria compared to numerical simulations
thoroughly tested against DASY systems on commercially-available handsets
suitable for use as a fast SAR system according to IEC 62209-1/2 and IEC/IEEE 62209-1528 protocols
extensive literature available confirming accuracy of cSAR3D measurements

High Quality

cSAR3D is delivered fully calibrated with all communication signals for wireless devices listed on our support page. Calibrations for other communication signals can be added without having to ship the hardware to us
calibration is performed in our ISO 17025 accredited laboratory (see news release)
our calibration laboratory is fully shielded and environmentally controlled
calibration of the sensors is performed in the final assembly; no adjustments or assembly is performed after calibration
full validation of new cSAR3D units is performed in accordance with IEC 62209-3

Trusted

solution of choice among several regulatory agencies
500+ units have been manufactured, calibrated, and installed globally
SAR array system preferred by device manufacturers and testing laboratories