DASY8 Module c3D (DASY83D)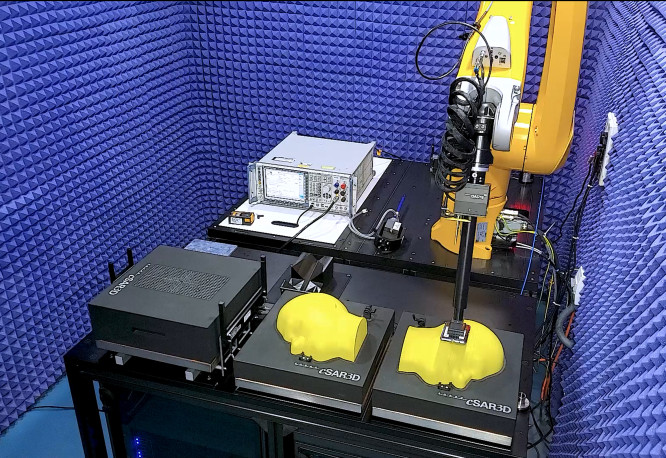 System picture extracted from the user-movie at the time of the DASY83D V1.2 release.
DASY8 Module c3D integrates the cSAR3D system with all DASY8 Modules. The DASY8 robot is used for the fast and accurate positioning of any phone or tablet on cSAR3D. The DUT gripper is then exchanged for a dosimetric probe for a DASY8 measurement. This creates a potent and versatile test system as it combines the speed of cSAR3D with the precision and versatility of DASY8 and preserves the full compatibility with all international measurement standards.
We call this system DASY83D because it potentiates DASY8 using cSAR3D.
The user interface is a Jupiter Notebook-based application that supports fully automated testing of wireless devices on cSAR3D including pre-screening, and evaluation of SAR-management features such as time-averaged SAR, proximity sensors, and motion sensors.
System

DASY83D fully integrates cSAR3D into the other DASY8 Modules. The platform accommodates a SAR phantom slot, a free space phantom slot, and three cSAR3D systems.

Applications

The DASY8 Module c3D includes all elements for positioning any phone or tablet on the cSAR3D phantoms enabling fully automated SAR pre-screening and evaluations of SAR-management features such as time-averaged SAR, proximity sensors, and motion sensors.

The combination of DASY8 Module c3D and Module SAR is the fastest and most versatile system for demonstrating SAR compliance with all SAR test standards worldwide.

Add-On c3D Platform

The specific Add-On c3D platform includes:

DUT pick-up station
cSAR3D Mounting structure for precise positioning of cSAR3D Right Head, Left Head, and Flat
Cabinet for DASY8 robot controller
c3D cabinet for the Robobox and the base station simulator

Module c3D Components

The specific Module c3D components are:

RoboBox V2.0
DUT Gripper V2
2 Light-Beam Units
Reference DUT (RDUT V2) for teaching the c3D platform
Software Module c3D
Software DASY83D

Software Module c3D

The software for DASY8 Module c3D includes two graphical user interfaces and two APIs for external control:

Module c3D: graphical user interface for control of all robot movements and cSAR3D measurements. Runs on Jupiter Notebook.
c3D API (application programming interface): interface to control all robot movements externally (i.e., without Module c3D)
cSAR3D Software: graphical user interface for creation of measurement projects and performance of SAR measurements
cSAR3D API V2: interface to control cSAR3D measurement functions externally (outside of cSAR3D graphical user interface)

Required Minimal Components (not included in the Basic Package)

The basic components of DASY8 Module c3D that are purchased seperately are:

EOC8
1 Light-Beam Unit
Quick Adapter Change System (QACSV1)
DASY8 PC
cSAR3D FLAT
cSAR3D LEFT HEAD
cSAR3D RIGHT HEAD

Upgrade
Any MP8I-TX2-90XL system can be upgraded
Module Compatibility

DASY83D is fully compatible with the following modules:

Standard Compatibility
Module c3D is compatible with:

IEC 62209-3
IEC/IEEE 62209-1528 (fast SAR section)

Typical Workflows for Compliance Testing

DASY83D compliance testing workflow:

Generation of the testing project; test configurations are added according to up-to-date rules from national regulations and international standards. Conducted power measurements may be imported to reduce the number of required tests
Precise robot positioning of the device on the cSAR3D phantoms in each test position. The DASY8 robot is used with a device positioner arm extension that is connected automatically
Automatic call handling with our robust base station simulator interface
Docking of the device for recharging whenever the power drift is more than 0.5 dB or as specified by the user
Determination of the tests to be performed on DASY8 using fast SAR protocols in international standards. Creation of the corresponding testing files after all cSAR3D tests are completed
Completion of DASY8 measurements after exchanging the device positioner with the probe holder on the robot
Generation of a combined report by DASY8 that can be used for documentation or submission to the regulator

Unique Features

Best of both worlds

Easy to use

Automated SAR measurement system that combines the speed of cSAR3D and the high precision of DASY8

System capable of switching between DASY8 Modules within a few seconds; easy to learn for DASY8 and cSAR3D users

Benefits

Easy to upgrade

Enhanced Usability

Can be upgraded from an existing DASY8 MP8I TX2-90XL system or cSAR3D system

Test reduction and compliance in one system for accelerated testing

Compatibility

DASY8, cSAR3D

Product History

See product lifetime

Release Date

released