SPEAG's solution for electromagnetic evaluations for research and development – DASY8/6 Module R&D V1.0 – has been released! The programmable and highly flexible platform allows power users to easily add custom scans to the predefined, comprehensive library to integrate third-party probes using an extensive and growing application programming interface. The easy-to-use graphical interface guides users through the measurement, data visualization, and export process.
SPEAG's specialized DASY8/6 Modules provide optimized solutions for demonstrating compliance with international standards from 3 kHz to 110 GHz. However, more and more of our power users also want to use the platform for nonstandardized high-precision evaluations in the field of R&D. In response, we have developed Module R&D, which offers maximum measurement flexibility using the new R&D user interface and the application programming interface (API).
DASY8/6 Module R&D V1.0 offers two measurement modes:
No-code mode: measurements are performed using SPEAG's pre-defined library of scans and robot commands;
Low-code mode: measurements are performed using custom scans developed by the end user; this mode supports the integration of third-party probes and instrumentation (signal generators, power sensors, etc.) and thus enables the automatic execution of complex measurement tasks (note that this mode requires basic Python programming)
Examples of applications are:
Implementation of probe calibration systems;
Prototyping of novel probes and procedures;
Near-field characterization of antennas, magnetic resonance coils, exposure systems, etc.;
3D mapping of hyperthermia applicators;
and many more
Measurement Workflow
The typical measurement workflow performed in DASY8/6 Module R&D V1.0 consists of:
defining the location of the device under test (DUT);
setting the device to the desired transmitting mode, for instance, setting a signal generator to the desired power level and frequency;
positioning the probe at the desired measurement location(s) and measuring the local field (point, line, area, surface or volume), temperature, etc.;
exporting and postprocessing the measured data.
The user-defined scans can also be added to the measurement table, as can any SPEAG-defined scan, and run as a single scan or a series of scans.

Data Processing
DASY8/6 Module R&D V1.0 offers advanced visualization tools to display the measured and post-processed data. Fields can be displayed on scatter, surface, contour, and heatmap plots. The visualization tool is also available for user-defined scans.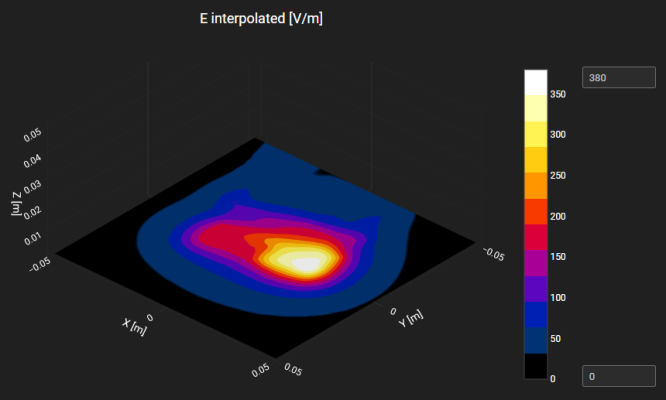 The DASY8/6 Module R&D V1.0 software installer and manual are available for download on our website.
If you have any suggestions or would like to receive further information, please contact us at info@speag.swiss.